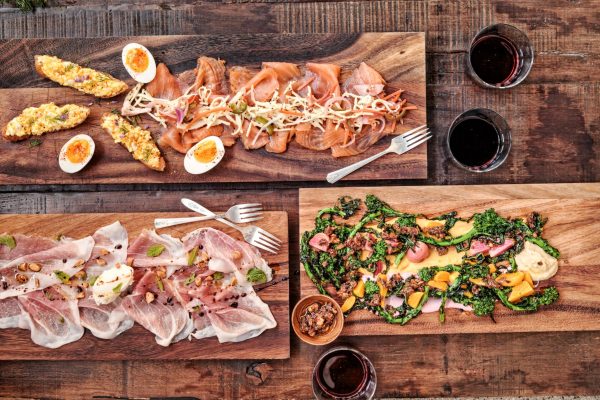 Spontaneous Picnic / Urban Picnic
Urban Picnic is an idea on top of the nightly menu showcasing dishes meant for sharing together to start the meal, a picnic if you will, while in the heart of the City.
A little pot of chilled chive-studded smoked trout rillete, warm luscious brandade, grilled bread and crudité entices our guests to savor their first sips of wine, anticipate the supper ahead, and commune together in a spirited, celebrated way. You can even make an urban picnic your dinner! You will also find delicious combinations of food served on wooden antipasto boards— attractive square and rectangular surfaces with savory edible components, a rotating classic repertoire at Foreign Cinema. This style of food, served purely and honestly, evokes a sense of freedom and taps into an unfettered world, where you can break into a spontaneous picnic sensibility, no matter where you are. This free form style stems from our desire to take advantage of the enchanting al fresco dining when weather is conducive to expanding the courtyard dining room to a robust capacity, and where we dream of foods we want to eat in the moment when the  cares of the day behind melts into a cocktail paired with the ingredients of he day. Use board cuisine at home to provide a relaxed, country style way of eating. When designing festive boards at home, think opposites in flavor, texture, and opposing ingredients. For example, sliced prosciutto wants a fluffy house made ricotta, slices of ripe nectarine, and a drizzle of honey and olive oil and fresh mint leaves torn on top. Sliced spicy coppa, could use a pile grilled broccoli rabe, and shaves of pecorino cheese, cracked black pepper and a squeeze of lemon. Sparring partners ignite the palette.
The beauty of boards provides the possibility of using leftovers that may not be enough to feed 4 for supper, but enough to compliment another central component. For example, a few triangular thick slices of pate de maison pair well that last ½ cup of lentils you made the other night. Just dress the lentils brightly with a touch of olive oil, red vinegar, salt and fresh cracked pepper, add toasted bread, cornichon, and a spoonful of Dijon, and an antipasto board is born.
With this free form sensibility in mind, you can transform a regular moment into a splendid urban picnic of your own, with a few key ingredients combined with what you have on hand. Composing your own boards turns into a world of possibilities, it's not cooking, it's composing.